In Canvas Conferences, when a conference is created it is accessible only to those listed in the Members section.

When you create a Canvas Conference, Canvas automatically creates an associated "access control list" (ACL) of course members that access the conference and view its subsequent recordings.
By default, the ACL for a conference is all students enrolled in the course at the time you create the conference.
Before starting the conference, you can edit the ACL by unchecking "Invite All Course Members" and choose a subset of the current course members.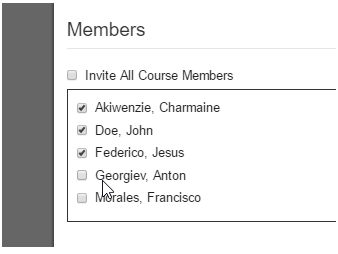 In the above example, Charmaine Akiwenzie, John Doe, and Jesus Federico are in the ACL for the conference. Only those three would be able to see the conference, join it, and view the subsequent recordings.
Once the conference is started, the ACL is fixed.
A problem occurs when a student is added to the course after a conference is created. In this case, the student will not be able to see any previous conferences, nor view their recordings, because they were not a member when the conference was created. They are not in the conference's ACL.
In such cases, if you are on the Premium Tier hosting (you have a hosting subscription with Blindside Networks), the best solution is to provide the late joiners direct links to the recordings. That is, as the instructor, when viewing the playback of a recording, copy the recording URL and share it with the students.
If you are on a Free Tier hosting plan (where recordings expire after N days), the recording links are protected and, as such, cannot be copied from one course to another. See "What are protected recordings links" for more information.