If you have the Premium Tier hosting for BigBlueButton from Blindside Networks, you can download a recording as a single video file.
To download a recording, right-click within the playback area and choose "Save Video As...". The video will have a resolution of 720p with a file extension of .mv4 (MPEG-4 video file). The size will be approximately 150 MB per hour of recording.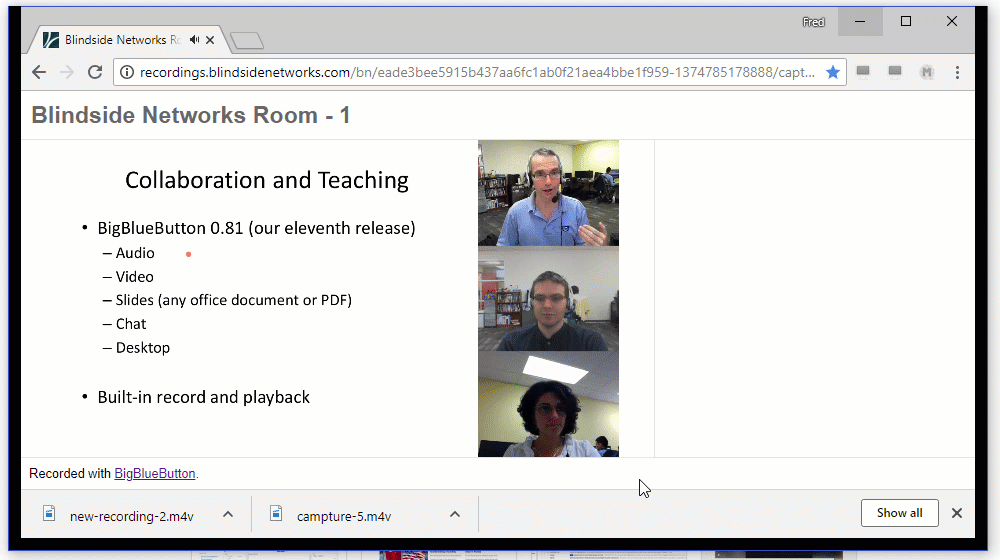 The downloaded video does not include any videos shared using Share video option, nor does it include the chat. If you also want all the chat messages, you can seek to the end of the recording in the web page and copy-and-paste the final chat
Free Tier recordings are not downloadable
If you are using a Free-Tier version for BigBlueButton, the recordings will play back within the browser as a synchronized combination of web components - there is no single video file to download.
You can can still download the video component of the recording (webcams and audio), but the presentation portion (uploaded slides, whiteboard, and polling) uses a combination of Javascript + PNG images + scalable vector graphics (SVG) and only runs within the browser.
If you want to download recordings as a single video file, upgrading to Premium Tier hosting will give you downloadable recordings that are permanent.