Once you have created a BigBlueButtonBN Activity you can access additional activity/room settings.
The activity/room settings allow you to
create a custom welcome message,

restrict viewers from entering the room until a moderator has arrived, and

set the session to be recorded.
Custom Welcome Message

Adding a Welcome Message replaces the default message set up for the BigBlueButton server displayed in the chat.  When adding a welcome message we recommend avoiding special characters and symbols such as ampersand (&) and the percentage sign (%).
IMPORTANT: the welcome message is HTML based and will not accept copied and pasted text from a word editing program (such as Microsoft word) - we recommend typing directly into the message field or using a TEXT editor, such as notepad.  Paste in your copied text into notepad, which will strip away any HTML codes, then copy and paste the text from notepad into the welcome message.  
Wait for Moderator

Checking the Wait for Moderator box restricts viewers ability to enter a session.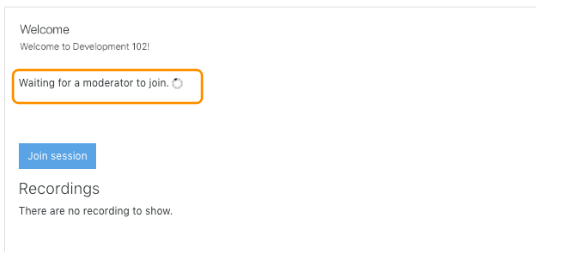 When this setting is enable, any viewer attempt to join a your session will see the message Waiting for moderator to join.  Once you have joined, those users will automatically join the session.
Set the session to be recorded

By default, the BigBlueButtonBN plugin checks this option.
If you uncheck this option, then the Start/Stop Recording button will NOT appear in your sessions and the server will not record any content.
IMPORTANT: We recommend leaving Session can be recorded option enabled. In the event you forgot to click the Start/Stop Record button, Blindside Networks can still retrieve and reprocess the recording 14 days from the date it was held.